NAME
BSG Property Race 2017
VENUE
The Galleria, Jalan Sultan Ahmad Shah, Georgetown, Penang
DATE
7th May 2017 (Sunday)
TIME
17km Competitive @ 6.00 am
7km Fun Run @ 6:30am
REGISTRATION FEE
From RM45.00 and RM60.00
Description
After the success BSG|Property Race 2015, we are proud to present you the new race venue, new course and new experience of BSG|Property Race 2017. Again this race organised by Penang Forward Sports Club and Actife Style Concept to all runners. The run will be started from The Galleria, 52 Jalan Sultan Ahmad Shah, Georgetown penetrating the beautiful Gurney Drive through the famous Georgetown UNESCO world heritage city and towards Tanjong Tokong and back to BSG The Galleria.
The aim of this run is to promote healthy living amongst us whilst doing charity for the needy in our society. Besides the cheapest registration fees that we could offer to encourage runners to join the fun n rock together, we will also provide timing chips for 17km competitive race, high quality imported famous sport dryfit jerseys, cash prizes and trophies, best costume cash prizes, ecertificates, elegant finishers medals, lucrative lucky draws, attractive goodies and lots more for all runners.
Guys, why wait? Let's join d fun n see ya.
Flag Off
17km - 6.00 am
7km - 6.30 am
Race Kit Collection
Date: 6th May 2017
Time: 10.00 am - 5.00 pm
Venue: BSG The Galleria, Penang
Category and Fee
Prizes
Participant Entitlements
All participants will stand to receive the following entitlements:

Finisher Medal
T-shirt
Goodies Bags
Race Bib
Medal Design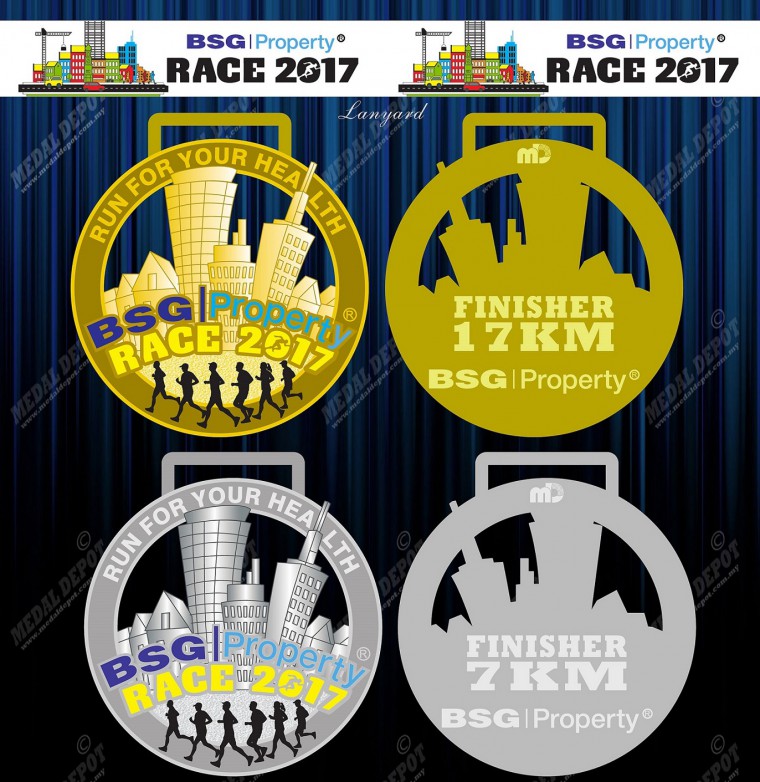 Route Map
17km Competitive Run
BSG The Galleria - Jalan Sultan Ahmad Shah - Lebuh Farquhar - Jalan Tun Syed Sheh Barakbah - Lebuh Light - Jalan Masjid Kapitan Keling - Lebuh Farquhar - Jalan Sultan Ahmad Shah - Jalan Larut - Jalan Burma - Jalan Pangkor - Jalan Kelawei - Jalan Tanjong Tokong - Jalan Seri Tanjung Pinang - Jalan Tanjong Tokong - Bulatan Gurney - Persiaran Gurney - Jalan Sultan Ahmad Shah - BSG The Galleria
7km Fun Run
BSG The Galleria - Jalan Sultan Ahmad Shah - Lebuh Farquhar - Jalan Tun Syed Sheh Barakbah - Lebuh Light - Jalan Masjid Kapitan Keling - Lebuh Farquhar - Jalan Sultan Ahmad Shah - Jalan Larut - Jalan Burma - Jalan Pangkor - Jalan Sultan Ahmad Shah - BSG The Galleria